loof751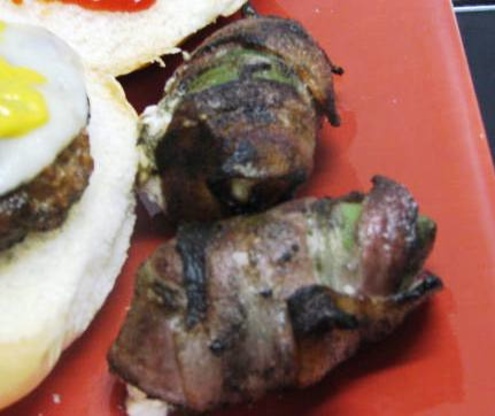 These are always a hit! Usually the first to go at a party.

Made on the grill last night for the first BBQ of the season. No one at the BBQ felt that the bacon added to the stuffed jalapeno's and most everyone just discarded the bacon altogether. Plus the cream cheese became very runny, but the bacon wasn't cooked yet. I think listing some cooking times would also be helpful here... they took longer than we had expected they would, 15-20 minutes or so for our grill. Maybe cooking the bacon first until limp would also help so that the cream cheese doesn't run all over before the bacon was cooked? Made for PAC Spring 2008.
clean and hull jalapenos, cutting off the tops and hulling the inside. you can use a potato peeler to do this easily. (make sure all seeds are removed) rinse well. you can soak them in water or milk for a few hours or overnight depending on your tolerance for jalapenos.
fill peppers to the top with cream cheese.
wrap raw bacon around peppers and skewer them (about 5 to a skewer) you can either prepare them immediately or refrigerate them until ready for cooking.
To cook you can grill them(this is best) or bake them. when bacon is done they are ready.
Make sure you wash your hands thouroughly and never let children help prepare them. We learned the hard way!