Cream Cheese Grapes With Nuts
Derf2440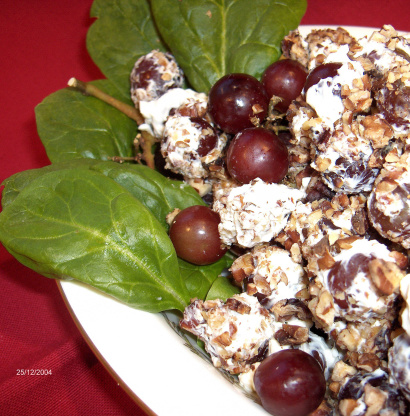 Watch the delightful surprised look on your guests faces when they bite into one of these. They are so refreshing with the cold grape, cheese and nuts MMMMmm. A reviewer suggested finely chopped ginger added in and I think that sounds wonderful.

Top Review by GinnyP
What a fun recipe! So simple, yet it's small touches like this that turn an ordinary buffet into "gourmet". I'm right-handed and to keep up a "production line" I worked right to left and with my right hand put each grape on top of the nuts and with my left hand rolled them and placed them onto another plate. That way only one hand was goopy with 'creamed' cream cheese. This recipe is a real find! Thank you so much!
Beat together until smooth the cream cheese and mayo.
Add grapes and gently stir to coat them.
Put the nuts on a sheet of wax paper and roll each coated grape in the nuts.
Place grapes on a cookie sheet and chill for at least an hour.
When ready to serve arrange grapes on the serving platter in the shape of a bunch of a grape cluster and decorate with a couple of green leaves or silk leaves.