Cream Cheese Cut out Cookies + Tips You Will Use Forever Promise
See hint below for cutting out..these are soft and delicious..see tips below..these are tried and true ways to decorate any sugar cookie recipe..another way is to combine a small part of evaporated milk with food coloring to have kids paint designs on cooked cookie.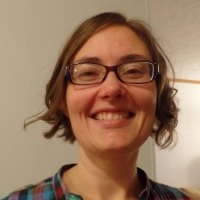 I sampled four different cream cheese cut-out recipes from food.com and these were our least favorite. As other reviewers have stated, the dough was very sticky to work with. I did not add any additional flour, but rather rolled it out between paper as you recommended, a sheet of parchment (bottom) and wax paper (top). This tip made the dough easy to roll-out despite the stickiness and it chilled much faster. Unfortunately, it also warmed very quickly and I was unable to re-roll and cut a second time without an additional chill. When baked, the dough only had a very slight spread. On the down side, the cookie was very sweet and almost tough in comparison to the other cookies I made. It only took 7.5 minutes in my oven. I made a half batch and got 29 2.5 inch circles.
Place butter and cream cheese in large mixing bowl. Mix with electric mixer until blended.
Add sugar and extracts. Mix till blended.
Add egg and mix until blended.
Place flour and baking powder in a medium bowl and blend with a whisk.
Add flour mixture to creamed mixture and mix on low speed until just blended.
**NOTES**.
This is the place where your normally divide your dough and wrap in plastic wrap and chill. This dough requires 1 1/2 hours to chill. I have had great success with rolling out dough between two sheets of paper to the thickness I want for my cookies--cover dough with another sheet of paper and place on cookie sheet or pizza pan and place in freezer for 20 minutes or chill in refrigerator for recommended chilling time.
When ready to cut out. I get out one portion of rolled dough at a time--place on counter and then gently remove top sheet of wax paper and then gently place back on top -- then I flip the waxed paper with dough inside and then gently remove top sheet of paper and discard.
Then I can cut out cookies in desired shapes.
These cookies can then be placed on cookie sheet ready to bake.
VERY IMPORTANT. I forgot to mention when rolling dough, be sure to check under-side and make sure you do not have wrinkles, by removing wax paper and then replacing it before flipping, this will ease removing cookies after they have been cut.
This is especially helpful with any rolled dough. Also helps when grandchildren like to help cut out cookies. We can just do one sheet at a time -- no more rolling for them.we can just get down to business of cutting, baking, decorating and then eating, their favorite part.
After placing on baking sheets, sprinkle with decorating sugar if desired. Unless planning on frosting when cooled.
Bake at 375° on ungreased sheet for 9-12 minutes.
Remove immediately to wire rack to cool. Sometimes we "paint" edges of cooled cookies with clean paint brush, reserved for this purpose only, and paint light corn syrup on edges of cookies and roll in colored sugar, sprinkles, chocolate jimmies, coconut, toasted if prefered.use your imagination.
I have found that you can also use food coloring and buy a blank stamp pad, reserved for just that color and use rubber stamps and stamp directly on cookie.this of course is edible. We sometimes stamp and roll edges.