Cream Cheese Crostata With Orange Marmalade
GaylaJ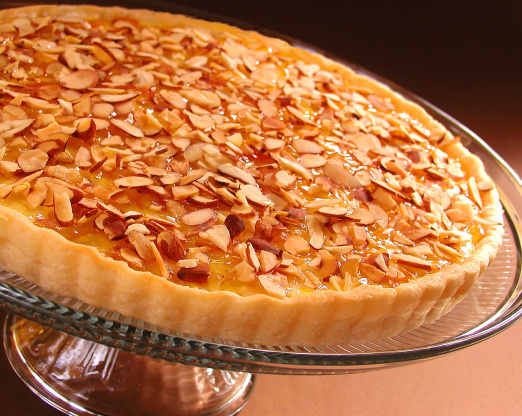 As published in Bon Appetit, Crostata con Crema di Formaggio e Marmellata di Arance Amare was touted as being one of the most popular desserts at Restaurant Zibibbo in Florence. I love a recipe that has few ingredients and a simple preparation, but results in a nice presentation and fabulous flavor. This is one of those. Actually, I did not try the crust recipe, as I had an extra crust already made that I needed to use so I used it. I do intend to make this again soon, though, and will update the recipe as to the results. Prep time includes 2 hours chill time. The recipe was credited to Chef Benedetta Vitali of Zibibbo.

Excellent tart! I made homemade orange marmalade and was looking for a way to showcase it. I ended up using the tart shell dough from French Tart's "Queen of Hearts Valentine's Jam Tarts" #349170 because I like it so much and added lemon zest like another reviewer suggested. I also did not want to spend the money on the Mascarpone cheese, so I substituted it with a ratio of 3/4c cream cheese beaten with 1/4c heavy cream. It tasted like a really fancy European dessert, not too sweet either. I will be making this regularly.
For crust:.
Mix flour and sugar together on work surface and make a well in center of mixture. Add egg yolk and scatter butter cubes over flour mixture. Using your hands, gently mix the ingredients together until well blended and dough forms. Flatten into disk, wrap in plastic, and chill at least 1 hour or overnight.
Preheat oven to 400°F and spray 9-inch tart pan with removable bottom with nonstick spray. Press dough onto bottom and up sides of pan. Bake until golden brown and cooked through, pressing with back of fork if crust bubbles, about 18 minutes. Cool crust in pan on rack.
For filling:.
Beat cream cheese, mascarpone, and sugar in medium bowl until smooth. Spread evenly in cooled crust and chill 1 hour.
Spread marmalade (I let it come to room temperature first) evenly over filling and sprinkle almonds over.
Can be made 1 day ahead; cover and chill.