Sara.Em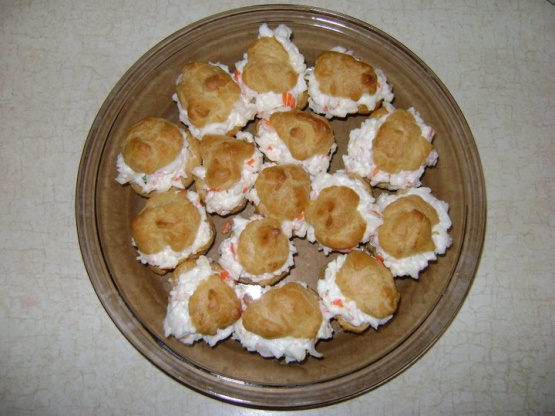 I found this recipe in an old cookbook that my mom gave me when Mathew and I moved in together. I think they're great, especially when served with some grilled asparagus and a big glass of sweet tea.
Bring water & butter to boil. Reduce to low heat.
Add flour & salt, stirring vigorously over low heat until mixture forms a ball.
Remove from heat.
Add eggs one at a time, beating the mixture smooth after each addition.
Place level Tablespoons of batter on ungreased cookie sheet.
Bake at 400 degrees for 25 minutes.
Cool.
Mix remaining ingredients together.
Cut tops off puffs & overfill them with the mixture.
Replace tops.
Bake at 375 degrees for 7 minutes on ungreased cookie sheet.