Cream Cheese Corn and Potato Soup
flower7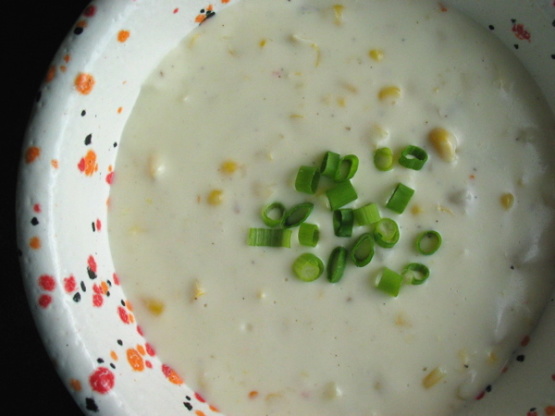 Always trying to put together recipes that my meat-loving and my vegetarian students will both like. I was quickly making some cornbread that needed creamed corn. By the time it was in the oven and I was cleaning up did I realize that I had an open unused can of creamed corn. Don't usually like using processed item, but sometimes it just works! Came up with this mixture as a trial.

This is really lovely! So rich and creamy :) I used fat free half and half and frozen corn. I could not find potato starch or arrowroot so used cornstarch. Did not add the Splenda or salt but added a sprinkle of Bacon Salt at the table. Served with Recipe #112844. Thanks so much for the recipe!
Wisk half and half, water and starch until blended in 5-qt.
pot with lid.
Place on medium heat.
Add Neufchatel cheese.
Heat and stir until cheese starts to break down.
Add rest of ingredients EXCEPT Splenda.
Bring to slow boil, turn dowm to simmer, cover and cook at least 15 minutes to allow flavors to meld.
Stir frequently.
Add Splenda when finished if you wish soup to be sweeter.
Adjust liquid needs if it thickens too much upon standing.
This is good with some shredded sharp cheese and slivered green onions on top-- don't overdo as this will change the taste of the soup.