Lainey39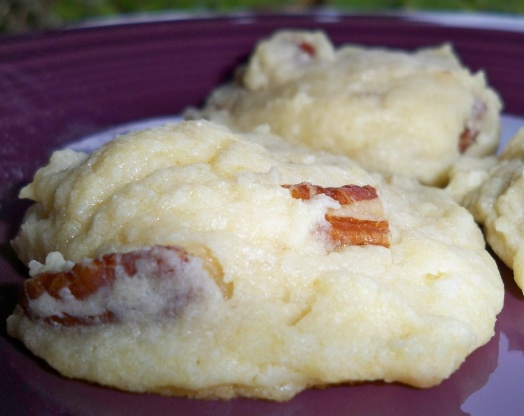 One of my mom's favorites.

I'm not leaving any stars for this recipe, simply because I screwed up making them. I never have Crisco in the house, so I tried making these with softened butter. While they were easy to make and tasted great, the texture difference caused by using the butter was quite noticeable. They looked good when coming out of the oven, but deflated as they cooled... eventually becoming thin as wafers and super-delicate. I'll have to make these again when I actually have the Crisco on hand.
Preheat oven to 350 degrees.
Combine Crisco, cream cheese and milk in a medium bowl.
Beat at medium speed of elecric mixer until well blended.
Beat in sugar and vanilla.
Mix in flour.
Add nuts.
Drop by rounded teaspoon about 2 inches apart onto ungreased cookie sheet.
Bake for 10 minutes.
Remove to cooling rack.