Cream Cheese Cinnamon Crescents
eabeler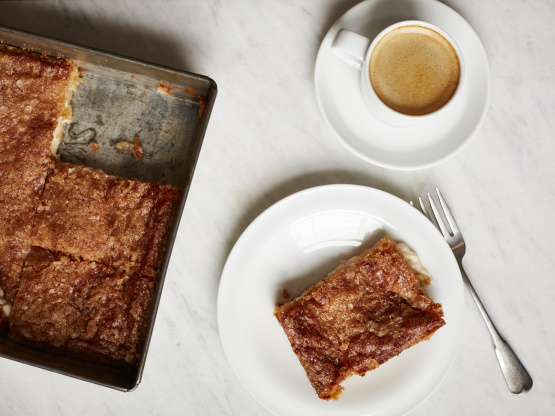 These are so yummy. Would be perfect for breakfast or brunch or anytime! I just made a batch late this evening. A parent brought these in for a teacher's luncheon and everyone loved them.

This was yummy! I served this for brunch with my son's playgroup, and everyone loved it! Even my husband couldn't resist grabbing a piece on his way to work. I did make a few changes: I only used 1 package of cream cheese, 1/4 cup sugar in the filling, spread some strawberry jam on top of the cream cheese, and added some fresh strawberries (since they're in season right now). I also cut down on the sugar for the topping, using only 1/4 cup, with 1/4 cup butter. I did find that the top layer felt too soft after baking for 35 minutes, so I left it in for another 10 minutes, and it came out perfect! Thanks for this super easy recipe!
Roll out one can of crescent rolls in bottom of 9x13 pan.
I sprayed pan with cooking spray.
Cream together: 2 8oz. cream cheese.
1 cup sugar.
1 teaspoon vanilla.
Spread this mixture over crescent rolls.
Lay second tube of crescent rolls over mixture.
Melt 1/2 cup butter, mix in 3/4 cup sugar,
1 teaspoon cinnamon, and pour over top.
Bake at 350° for 30-35 minutes.