Cream Cheese Chicken Cordon Bleu
Pamela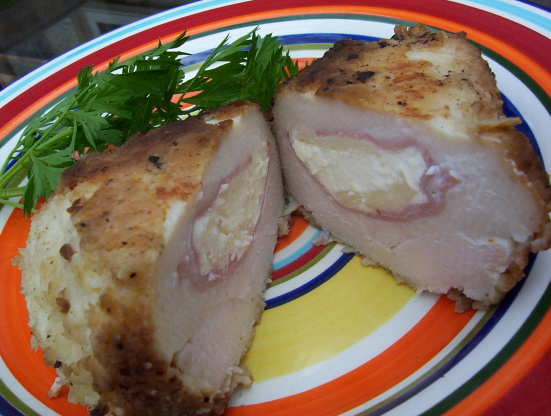 I love regular Chicken Cordon Bleu, but it is even better with cream cheese in it!

I have tended to stay away from cooking this dish, because I thought it would be difficult and time consuming. Boy was I wrong. This recipe was easy and extrememly good. My DH was really impressed. The only thing I did different was use crushed rice krispies instead of crackers, and that was only because I was out of crackers.
4

slices deli ham (I like to use the honey ham, but any kind is good)

4

slices swiss cheese (sandwich size)

2

tablespoons cream cheese

1

egg, lightly beaten
crushed saltine crackers

3

tablespoons vegetable oil

2

tablespoons water
Place chicken between two pieces of wax paper or plastic wrap and pound till 1/4" thick.
Place one slice ham and one slice cheese on each breast.
Evenly distribute cream cheese between chicken breasts, spreading on top of the ham.
Roll up carefully, securing with toothpicks.
It is important to secure the ends so the cream cheese doesn't leak out!
Just close the ends by securing them with toothpicks.
Lightly sprinkle each piece with salt, then dip in the egg.
Roll chicken in cracker crumbs.
Cook rolls in hot oil in skillet until light brown, turning occasionally (approx. 5-10 minutes) When brown, add water, cover and simmer until chicken is done, about ten minutes.
Remove toothpicks and serve.