Pamela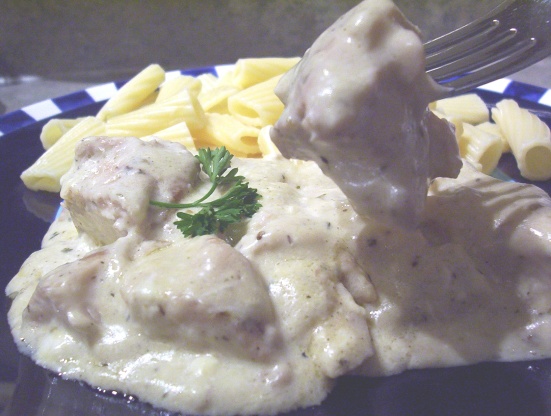 Looking for a comfort food? Like to come home after work to a meal ready in the crockpot? This recipe got so many rave reviews on the TOH board that I had to try it. It quickly became one of our favorites!

This is wonderful! I made it stovetop with twice the amount of chicken (on sale), and about 1/3 can milk, I cooked chicken in butter until just done, then allowed to simmer with soup on low temp for about an hour. I added fresh carrots and green beans with cream cheese, then allowed that to cook about another 15 or 20 minutes. Served with egg noodles. This was a really tasty way to make a several night meal out of chicken breasts. Thanks for the great recipe, it's a keeper!
Cube chicken into bite-sized pieces.
Combine chicken pieces, butter and Italian seasoning mix in a Crock-Pot (slow cooker) and cook on low for 6 to 8 hours.
Then add cream cheese and soup, and cook on high until cheese is melted.
Serve over rice or pasta.