Cream Cheese Cheddar Bean Quesadilla
flower7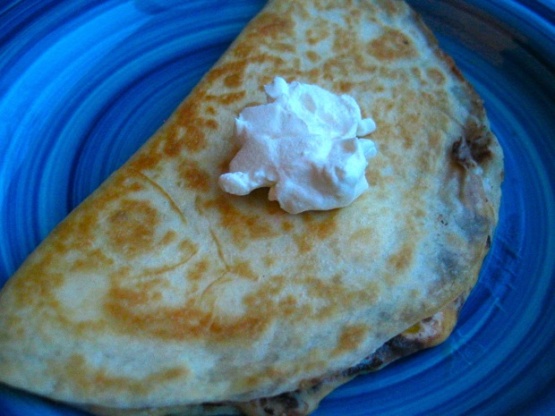 This is another late night invention. Very tasty and filling.

mmm! I big big quesadillia fan and this did not dissapoint. I like the cream cheese - it makes it extra creamy. I used refired black beans to solve the falling apart problem that other reviewers had. Made for Zaar Cookbook tag.
Spread cream cheese on one side of the tortilla, completely covering it.
Top the cream cheese with the black beans and onion.
Top the beans with the cheddar and fold over.
Heat skillet to medium.
Brush one side of folded tortilla with melted butter.
Put the quesadilla butter side down in skillet.
While that side is cooking, brush butter on the other side.
When lightly browned, flip.
When both sides are lightly browned, remove from skillet and serve with sour cream and salsa, if desired.