Cream Cheese-Blueberry Muffins
Nimz1466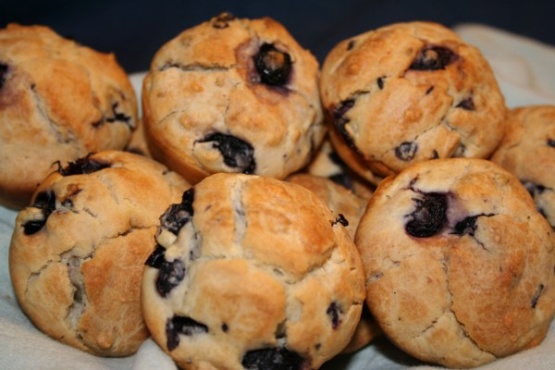 I love the taste of cream cheese and blueberries, these make a great breakfast treat or snack and it's so easy.

Top Review by HopeK
I don't have a food processor so used a hand mixer. It was still pretty easy to make. I only baked for 25 mins and they were done! I split the batter in 1/2 prior to adding the blueberries and put chocoalate chips in half of the batter. The batter was fluffy and not drippy like some muffin mixes. Used cake flour as recommended. To tell the truth I could not taste the cream cheese but these ARE good!
Preheat oven to 350°F.
Line the cups of a muffin tin with 12 paper liners. Set aside.
Combine flour, sugar, baking powder, baking soda, and salt in a mixing bowl.
Stir well; set aside.
Using metal blade, process cream cheese, lemon juice, and vanilla in food processor until smooth.
Add eggs and process 15 seconds.
Scrape down side of container with a spatula.
With processor running, pour melted butter through food chute.
Process another 10 seconds.
Add milk and process 5 seconds.
Add dry ingredients to container and mix with 4 to 6 half-second pulses.
With a spoon, fold in blueberries.
Pour an equal amount of batter into each muffin cup, filling each about 3/4 full.
Bake 30 minutes in the middle of the oven.
Cool on rack 15 minutes.