alligirl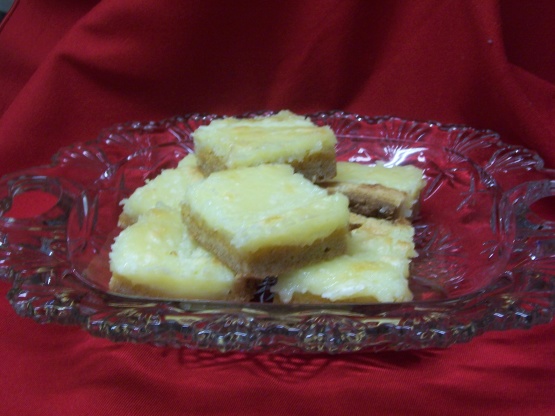 This is one of my children's favorites. They eat them up when I make them as they are very addictive. You just can't eat one. I cut them in small pieces also as I like to give them as gifts around Christmas time. My friends must love them also because I get requests all the time to make these delicious little treats. Enjoy!
Preheat oven to 350 degrees.
Spray 13X9 inch pan with Pam.
Mix cake mix, 1 egg and 1 stick melted margarine.
Press into bottom and spread a little up sides of pan.
Topping.
Beat remaining ingredients until smooth and creamy, about two to three minutes.
Spread over cake mixture evenly.
Bake until light brown, 30 to 40 minutes.
Cool completely before cutting with a sharp knife.