rckgrl21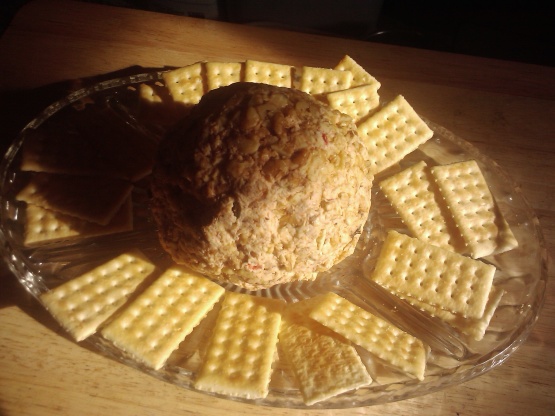 This is our Family Recipe we use on holidays It is very delicious and there's never any left overs
In a mixer mix two 8 ounce packages cream cheese with one 8 ounce package mild cheddar cheese.
Add 1 Tablespoon diced green pepper.
1 Tablespoon minced onion and.
2 Tablespoons Pimento Mix Well.
Add 2-4 drops Lemon Juice and a pinch of salt Mix Well.
Add 1/2 cup chopped walnuts stir.
Put remaining walnuts on wax paper roll cheese over nuts to form a ball and coat entire ball with nuts.
Wrap in foil refrigerate can also freeze for later.
Enjoy serve with crackers.