Cream Cheese Almond Coffee Cake
Juju Bee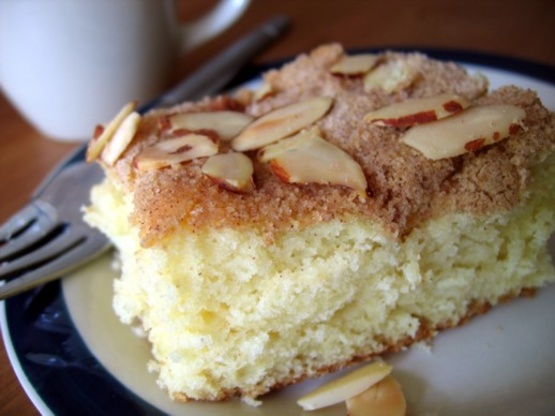 An adopted recipe, I have made this ahead when having company over for and easy breakfast. Original Intro: A great moist coffee cake.

Top Review by ejnei
Nice and moist. It didn't rise as much as I thought it would. I used dried cranberries. Easy to make. Plan to make it again. Thanks. Oops! Just realized that I forgot to add the almond extract! Sigh.UPDATE: i have now made this cake 3 times since my first review. I'm addicted! I now use dried cranberries and 1 1/4 tsp almond extract and bake it for 30 minutes in a 9X13 pan. It is the best coffee cake I have ever tasted. Next time, I may use chocolate chips instead of the dried fruit and see how that works.
Preheat oven to 350.
Spray a 9 x 13 cake pan.
Cream butter, sugar and cream cheese very well until smooth.
Add eggs, one at a time, scraping down as needed add vanilla and mix inches.
Sift together dry ingredients and add alternately with milk.
Stir in cherries.
Spread into cake pan, smooth top Mix topping ingredients (excluding almonds) together.
Sprinkle almonds then topping over batter.
Press lightly.
Bake until tests done.