Ms B.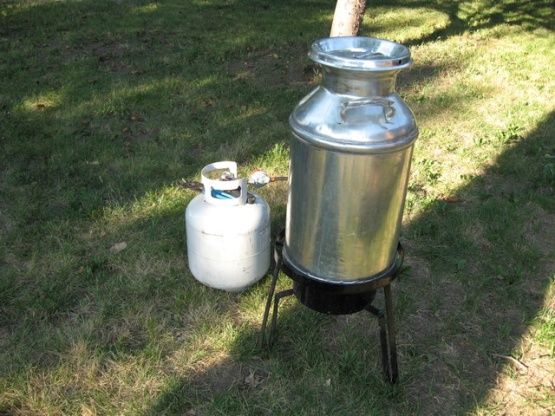 This has been a popular summer fare for parties and gatherings in our area. You will need a 10 gallon cream can (such as used in a dairy) and the burner mechanism for a turkey fryer. This is cooked outdoors due to the open flame of the propane burner and usually served in a wheel barrow that is lined with a plastic tarp. It is fun and rustic for picnics, reunions, and all kinds of summer parties.

My family has also done this for years....cream can feasts were always looked forward to in the summer. We have also done this with pheasants - put the entire cleaned pheasants in the cream can too! The pheasants always turned out very moist and tasty!
12 -15

potatoes, washed and cut in half

6

onions, left whole

12

carrots, cut into 3 to 4 inch chunks

2

heads cabbage, quartered

12

ears corn on the cob, cut in half

12

bratwursts (Italian sausages are good, as are spicier versions.) or 12 other sausages (Italian sausages are good, as are spicier versions.)

3

(12 ounce) cans beer
salt and pepper, to taste
Layer potatoes, onions, carrots, cabbage, corn and sausages in the cream can in the order listed.
Pour in the cans of beer and season with salt and pepper. (Can also add garlic, Montreal Steak seasoning, or whatever other seasonings you prefer.).
Cover and bring to a boil. Steam on propane burner for about one hour.
Serve with buns for the sausages and/or plain white bread and butter.