Bonnie G 2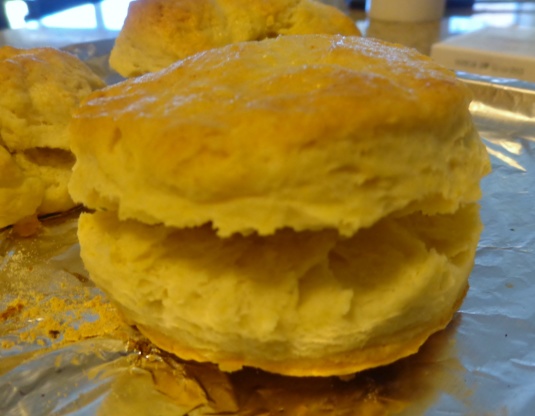 This recipe is incredibly easy (and so tasty) to make because you don't have to cut in the fat -- it's already there in the cream. Recipe from The Gourmet Cookbook. Unlike traditional biscuits, cream biscuits benefit from relatively rough treatment. so don't be afraid to knead for 30 seconds. NOTE: Be sure to use heavy cream, otherwise you'll be disappointed!

I've made this recipe several times and love it. My husband love my biscuits when I make it with this recipe. Yesterday, we were having a Super Bowl weekend special Saturday breakfast (yeah, it's a made up event - lol) and these biscuits had to be on our special menu. But this time I changed it a bit. I used "self-rising flour" with 1 T sugar and heavy whipping cream, taking out the baking powder and salt. It came out GREAT. They were so soft and moist. Was soooooo good with sausage gravy on top.
Put a rack in middle of oven and preheat to 425 degrees.
Lightly grease baking sheet.
Sift together flour, baking powder, and salt into bowl. Add cream and stir just until a dough forms.
Gather dough into a ball, turn out onto a lightly floured surface, and gently knead 6 times, approximately 30 seconds.
Pat dough into a 10 inch round (1/2 inch thick).
Cut out as many rounds as possible with lightly floured cutter, dipping it in flour before each cut, and invert rounds onto greased baking sheet, spacing them about 1 1/2 inches apart.
Gather scrapes, pat out dough, and cut out more rounds in same manner.
OR.
If you prefer, gently press the dough into an 8-inch cake pan, then turn the dough out on the counter and using a knife or dough scraper (bench knife), cut the dough into 8 wedges.
Brush tops of rounds with cream.
Bake until pale golden, 12 to 15 minutes.
Tranfer biscuits to a rack to cool and serve warm or at room temperature.