Nimz1466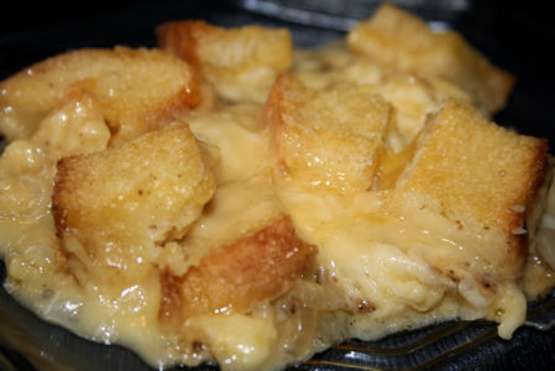 At my husband's family gatherings this dish often shows up as an accompaniment to many meals. It is rich and tasty and can easily be doubled for a larger crowd. There are rarely leftovers. I don't know where the name comes from but it definately fits the group. Preheat oven to 350º.
3

large white onions

8

tablespoons butter, divided
1⁄2 lb swiss cheese, grated

1

(11 ounce) can cream of chicken soup
1⁄3 cup milk
1⁄2 teaspoon soy sauce

5

slices French bread, 1/2 inch
Slice onions into rings and sautee in 4 tablespoons of butter until translucent.
Put the onions in a casserole dish. Top with a lot of ground pepper and the swiss cheese.
Heat the soup, milk, and soy sauce and then pour the mixture evenly over the onions.
Spread the remaining butter on the bread and cut into 1 inch cubes. Put the cubes on top of the casserole butter side up.
Bake at 350º for 30 minutes or until the bread gets dark golden. Serve warm.