Crazee Simple Saffron Tomato Clam Sauce and Linguine
Rita1652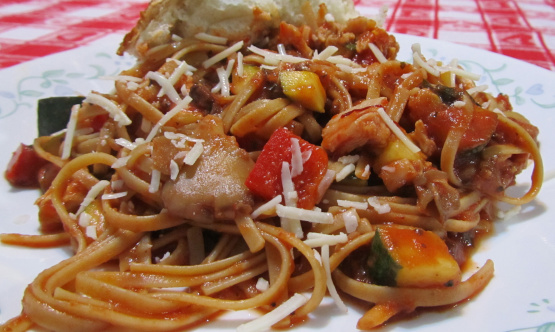 What better gift than the gift of a tasty and relaxing meal? Treat yourself and the special someones to a nice dinner that is tasty and quick to prepare. It is elegant enough for a special event and quick enough for any day of the week. This dish is packed with vegetables and loaded with flavor.

Nice heat from the flakes, sweetness form the meaty red bell pepper and onions, rich nicely spiced sauce that doesn`t need any salt. I used 3.5 ounces chick and hen mushrooms. Roasted garlic and roasted garlic oil. Went for a slight pinch of my habanero chili pepper flakes. Used home canned fresh tomatoes that I gave a quick swirl in the blender. This did make enough sauce for 1 pound of pasta. I used whole wheat linguine. I kept the clams out of the main sauce and just added for my husband and myself. As my son won`t do seafood. It is too bad no one reviewed this for the contest because it is a winner.
Paula, you did great with this! Thanks. Made for hidden gems.
1

tablespoon olive oil

6

medium mushrooms, thinly sliced

1

medium onion, finely chopped

1

medium bell pepper, chopped

2

garlic cloves, finely chopped

1

pinch saffron (hefty)
3⁄4 teaspoon chili powder
3⁄4 teaspoon dried basil leaves, crushed
3⁄4 teaspoon dried oregano leaves, crushed
1⁄4-1⁄2 teaspoon dried chili pepper flakes

2

medium zucchini, cut in 1/2 inch dice

2

cups marinara sauce (Use a good quality jar sauce.)

1

(6 ounce) can minced clams, drained
1⁄8 cup kalamata olive, coarsely chopped

8

ounces linguine, cooked and drained
parmesan cheese, grated
Over medium high heat, heat olive oil in heavy skillet. Add mushrooms and cook until brown. Add onion, garlic and bell pepper cook stirring occasionally until wilted.
Stir in saffron, basil, oregano and red chili flakes, cook 1 minute. Add diced zucchini and cook until zucchini begins to wilt. Stir in sauce and bring to a boil over medium high heat. Reduce heat to low, stir in clams and diced olives. Cook until heated through.
Serve over hot linguine and sprinkle with cheese.