Craze-E Good Turkey Chili - 4 Qt Crock Pot
teresas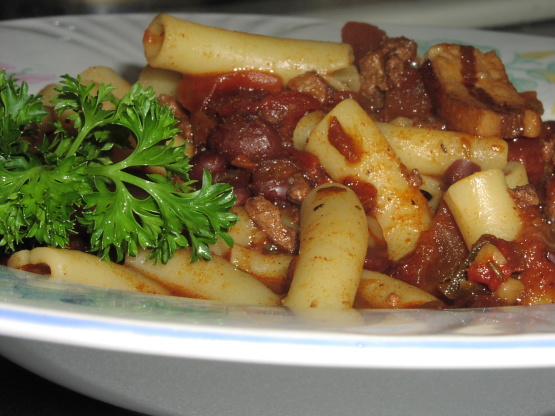 An economical, hearty and delicious chili with lots of flavor and a well balanced heat level. Ground turkey makes this chili healthier but you would never know by tasting it. Even people who do not like ground turkey have enjoyed this dish. A common complaint of crockery cooking is that the flavor is diminished with the long cooking time which makes chili a fantastic choice for the crock pot. The slow cooking gives these ample herbs and spices time to blend together and allows the heat level to mellow. Canned chipotle chilies (smoked jalapenos in adobo- a spicy flavorful sauce) add a wonderful spark of smokiness that is difficult to duplicate and sets this chili apart from others. Controlling the heat level is easy by choosing mild, medium or hot Rotel. Beer is an important flavor ingredient here and regular beer gives a much better flavor than light beer. I use Shiner Bock which is a darker lager. You control whether you want to leave your chili thick and chunky as it is here or make it thinner by adding more broth. You can also add a little more beer with the broth if you like. That is IF you did not drink it already! For a great morning time saver I prepare this the night before and store it in the refrigerator. In the morning I just take it out, plug it in and turn it on. I hope the aroma and flavor of this chili fills your home with warmth! Made for the Let's go Craze-E contest! Good luck to all contest participants!

This was an interesting dish to make. It's not a quick fix before heading out the door. The flavor grows on you, at first DH and I both weren't sure what we thought of it. The more we ate the tastier it got. I made as posted, with that said I would use less water/broth next time because it was more like a soup. I did add large macaroni during the last 30 minutes to help thicken it up. Thanks for posting. Made for Hidden Gems 2008 :)
Preheat a large skillet over medium high heat and spray liberally with non-stick cooking spray. Chop the bacon into 1/2 inch pieces and add to pan. Add ground turkey and onion and saute stirring often until bacon is cooked and no pink remains in the ground turkey. Drain well and return to the pan. Turn the heat OFF.
Add the chili powder, paprika, cumin, oregano or italian seasoning and stir into the meat until thoroughly combined. This allows the spices to penetrate and coat all the meat.
Using a crock pot at least 4 quart size or larger, spray the inside of the crock well with non-stick cooking spray and transfer all ingredients from the skillet into the crock pot.
Remove chipotles from the can, use gloves if you like as the oils from the pepper will remain on your fingers. No touching your eyes or nose! :) Place the peppers on a cutting board and mince them finely. Add them, along with a little of the adobo, if you like, to the empty skillet over no heat.
Measure broth or amount of bouillon indicated on the package for the amount of water listed. Crumble bouillon into the water and stir. Add the bouillon or broth, beer and garlic or garlic powder to the skillet with the chipotle peppers and stir well. This will disperse the chipotle pepper and make sure it gets evenly distributed in the chili. Make sure to scrape up any browned bits from the bottom and sides of the pan. Add all this to the crock pot. I like to use a rubber scraper/spatula to scrape out every last bit of goodness. You are just blending these ingredients together and cleaning out the skillet here and so you need no heat.
Add both cans of undrained tomatoes and beans (drained or undrained whatever your preference) to the crock pot. Stir to combine all the ingredients.
Set crock pot to low and allow to cook for at least 6-8 hours on high or 10- 12 hours on low.
Ladle finished chili into bowls and garnish as you choose. Sour cream and grated cheese make wonderful additions and the dairy cools the heat of the chili. A dash of your favorite hot sauce is a great way to kick up the heat some more. This chili is also great with cooked rice or macaroni added into it either initially or as a way to create a new dish with any leftovers. Hope you enjoy!