chia2160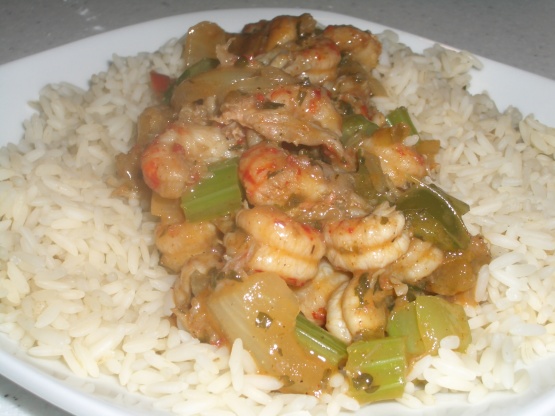 I loved cajun food before living in Baton Rouge, LA for a time. I really learned to love it while living there. Most of the etouffee I have eaten has a heavy roux. This is a lighter sauce. The recipe was downloaded from another site a few years ago.

i halved this recipe and it worked really well. i used 1 tbsp creole seasoning, but sprinkled the cayenne liberally, served tabasco on the side. so much easier than making the roux, and it had that great cajun flavor. update 3/10-- i make this recipe regularly now that i know i can get crawfish tails peeled and frozen- this is one of my favorite finds on zaar
Season the crawfish tails with salt, black pepper and cayenne pepper.
Heat butter in saute pan until melted.
Add the onion, bell pepper and celery; cook until onion is translucent, about 5 minutes.
Add 1-1/2 cups water, Creole seasoning, thyme, oregano, bay leaf and crawfish tails.
Bring to a boil, reduce heat to low and simmer for 30 minutes.
Mix corn starch in the remaining 1/2 cup water.
Add to the crawfish mixture along with green onion and parsley, cook an additional 5 minutes.
Serve over hot cooked long grain rice.