Nimz1466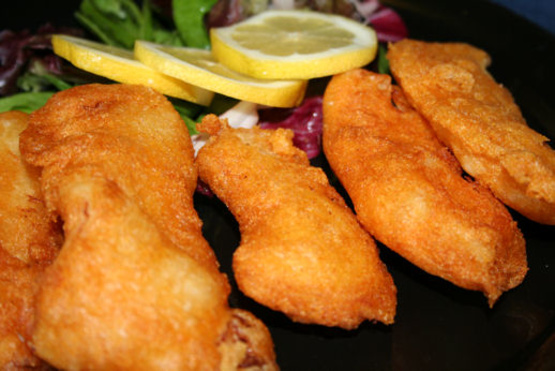 For those of you living in the Midwest and lucky enough to snag those delicious crappie fish, here's a recipe that will do justice to those wonderful little fellas!

Excellent. We had a good day fishing and I wanted to make it different than our usual way and found this recipe. I'm so glad I did. The crust was very crispy and help together very well during the frying process. I tried it in my deep fat fryer but it stuck to the basket so switched to a regular frying pan. Peanut oil is the key to any fish fry, IMHO. The only thing I did differently is I doubled the recipe for all the fish we had and used 2 cups cornmeal and 1 cup of flour together with the other batter ingredients. The rest stayed the same. thanks so much for a wonderful meal.
Empty beer into a large bowl.
Add the corn flour, salt, paprika, and cayenne to the bowl and whisk until you have light and frothy batter.
Refrigerate for a least an hour but up to five days.
In a deep fryer or deep skillet, heat at least 2 inches of oil to 375 degrees F.
Dredge fillets in flour, shaking off any excess; then dip them in the beer batter, coating them well.
Fry in oil until perfectly golden and drain on paper towels.
Serve with lemon wedges, tartar sauce and hot sauce. Yum-yum! Prep time does not include refrigeration time.