Cranberry Zucchini Wedges
Bobtail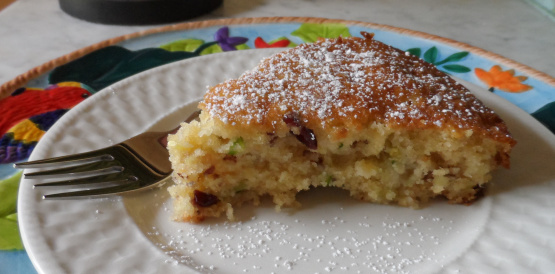 My mother just emailed me this recipe and rants and raves that it is EXCELLENT! It has cranberries, zucchini, pineapple and nuts. I have not made this yet but will definately give it a try.

I had to wonder what this would taste like, given the unusual combination of ingredients! I wonder no longer as it is another recipe I would give more than 5 stars! DH said "This stuff is darned good"! I made a couple of substitutions, ie, used crushed pineapple instead of chunks and had to use whole berry cranberry sauce. I could not find frozen or fresh cranberries. I rinsed the sauce off of the cranberries and just used the whole berries. They were not as whole and firm as fresh or frozen, but it worked very well. DH and I had this for dessert tonite, but I don't think it should be saved for just dessert. It would make a nice side dish for any meal. It is quite a delicious and sneaky way to eat your veggies! Thanks Pvt Amys Mom! 6/21/12 Thought I should update my review as I have made this many times now and my friends love that I share it with them. I do make it according to the recipe, only sub is that I usually use dried cranberries as I keep them in my pantry to add to salads. I don't take the time to shred the zucchini, I just chop it as fine as I can, leaving some larger pieces just for looks. This always turns out moist and very very flavorful. Most times I leave off the sprinkling of powdered sugar as I think it is just fine without it. Great for a brunch or anytime. You should try this!
In a mixing bowl, combine the flour, sugar, baking powder, baking soda and salt.
In a separate bowl, whisk the eggs, oil, vanilla and pineapple.
Add to the dry ingredients until blended.
Fold in the zucchini, cranberries and nuts.
Pour into 2 greased 9 inch pie pans.
Bake at 350* for 30-35 minutes or until toothpick inserted into center comes out clean.
Cool for 10 minutes before removing from pans then cool completely on wire racks.
Just before serving, dust with powdered sugar.
Yield: 2 cakes, 8 wedges each.
(Can also be baked in one greased loaf pan for 40-60 minutes or until toothpick comes out clean).