teresas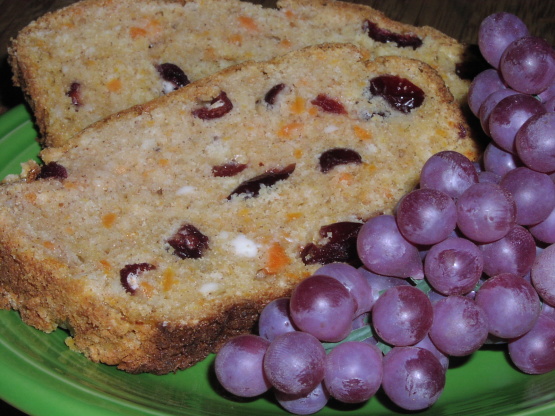 The original of this recipe comes from The Joy of Cranberries: That Tangy Red Treat cookbook, but it's been tweaked a little here! It makes a great breakfast bread, served warm wth soft butter! Preparation time does not include time for loaf to cool completely.

This is wonderful! I had taken out a frozen yam, thawed, and didn't want to eat it, but didn't want to waste it either. I had everything the recipe called for except the cream cheese, so I did some research and substituted Greek yogurt. I also used fresh grated nutmeg. Very yummy! Thanks for posting this recipe.
Preheat oven to 350 degrees F & grease a 9"x5" loaf pan.
In a large bowl, beat cream cheese & sugar until light.
Beat in yams, eggs, vanilla, cinnamon & nutmeg.
Stir in bisquick & cranberries until just blended ~ DO NOT OVER-MIX!
Spoon mixture into prepared pan.
Bake 45 to 60 minutes or until wooden pick inserted in center comes out clean.
Remove from oven & cool in pan 15 minutes.
Remove from pan & cool completely on wire rack.
When completely cool, wrap in plastic food wrap.
Serve at room temperature or cold, & refrigerate leftovers.