Cranberry Whole Wheat Scones, Diabetic Friendly
Katzen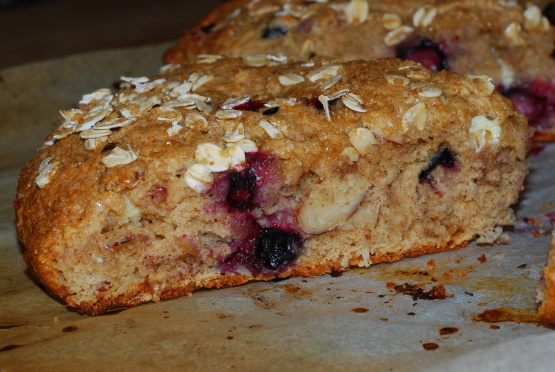 Take your choice of ginger or cinnamon to flavor these tender, fruity wedges. A sprinkle of rolled oats decorates the tops and adds a little fiber.

Mmm, these are sooo good! They wholesome, sweet, fluffy and flaky with a nice crunch from the oats. Great for breakfast or anytime, really. YUM!
I used two bananas in place of the egg sub and left out the sugar. I only used 1 1/2 tbs butter and that seemed to be plenty for me. My dried fruits were a mix of blueberries, cranberries and cherries. Next time I might up the whole wheat flour to 1 cup and see how that works out.
All in all a great recipe that I will keep handy to make over and over again.
THANK YOU SO MUCH for sharing this true winner with us, Annacia!
Made and reviewed for Almost 5 tag game September 2011.
Preheat oven to 400 degree F.
In a large bowl, stir together all-purpose flour, whole wheat flour, Splenda, baking powder, ginger, baking soda, and salt.
Using a pastry blender, cut in butter until mixture resembles coarse crumbs.
Make a well in the center of the flour mixture.
In a small bowl, beat egg slightly; stir in the 1/3 cup buttermilk and cranberries.
Add buttermilk mixture all at once to flour mixture.
Stir just until moistened (some of the dough may look dry).
Turn out onto a floured surface.
Knead dough for 10 to 12 strokes or until nearly smooth.
Pat or lightly roll dough to an 8-inch circle about 3/4 inch thick.
Brush top with additional buttermilk; sprinkle with oats, pressing gently into dough.
Cut into 8 wedges.
Place dough wedges 1 inch apart on an ungreased baking sheet.
Bake for 13 to 15 minutes or until edges are light browned.
Serve warm.