Cranberry White Chocolate Biscotti
Pamela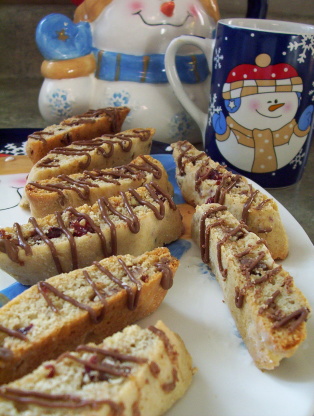 I received this as part of my annual Christmas Bake Exchange.
Preheat oven to 325.
In small bowl, mix flour, b.powder and salt.
In large bowl, beat butter and sugar until light and fluffy. Beat in eggs and vanilla. Gradually add flour mixture, beating well after each addition. Stir in white chocolate and cranberries.
Divide dough into 2 equal portions. On floured board, shape into 2 logs, each 14 inches long 1 1/2 inches wide and 1 inches thick. Place 2 inches apart on greased and floured baking sheet.
Bake 25 min., or until lightly browned. Remove from baking sheet. Place on cutting board, cool 5 minute.
Using serrated knife, cut each log into diagonal slices about 3/4 in thick. Place slices flat on baking sheet 1/2 inches apart. Bake 10 min, or until slightly dry. Remove from baking sheet and cool on wire rack. Drizzle with melted chocolate, let chocolate dry. Store in tightly covered container.