PaulaG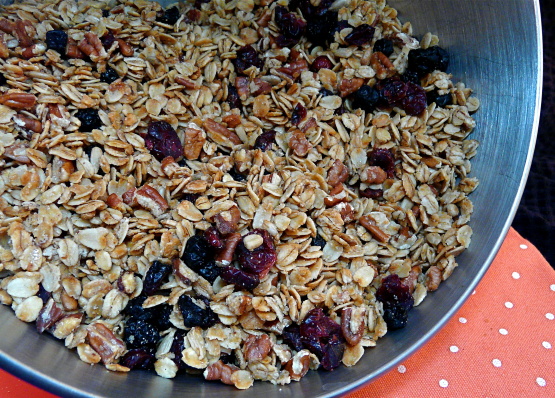 Based on a recipe from The Wholesome Junk Food Cookbook by Laura Trice. She says of this recipe, "I grew up eating homemade granola that my mom made for us and have found that having a tart fruit in the granola gives it extra pizzazz. I enjoy the cranberry-walnut combination. Walnuts have healthy oils and are so good for us. The protein and fat combination of the nut helps to make the granola more filling, providing lasting energy. Granola takes a little while to bake and makes your entire house smell good. This is a good granola for breakfast." NOTE: Add fruit to granola only after the baking is done to avoid drying out the fruit and avoid making it tough to chew and less flavorful.
Top Review by PaulaG
Very tasty. It has been a long time since I made granola and long overdue. I used unsalted sunflower seeds in place of the sesame seeds, coconut oil for the oil and the maple syrup option. I baked the mixture on a cookie sheet lined with a baking map for 40 minutes. I did think the granola was a little salty. Next time I will cut the salt by half. A nice crunchy granola.
Preheat oven to 325°F Prepare a shallow 14x11-inch pan by greasing with cooking spray or butter.
In large bowl, thoroughly mix together oats, walnuts, sesame seeds, orange zest, sugar, and salt.
In a separate bowl combine the honey and oil. Pour over the dry ingredients. Thoroughly mix together and spoon into the prepared pan.
Bake for 30 minutes, turning the pan and stirring every 10 minutes, or until golden brown.
Remove from oven. Mix in the dried cranberries and blueberries, if using, and allow to cool.