Cranberry Upside Down Cake
Boomette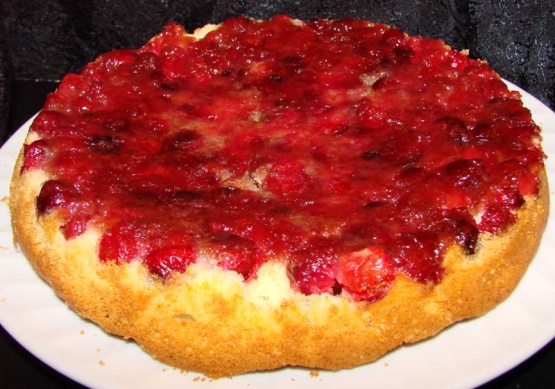 This is another great recipe from Martha Stewart's Everday Foods magazine (Issue 8). I have made this with blueberries as well. It looks as good as it tastes!

I liked this cake and it was so pretty too. Not "too sweet" as some cakes can be. Nice use of cranberries. Thanks for sharing.
Preheat oven to 350 degrees. Grease an 8 inch round cake pan with 2 tbsp of butter.
In a small bowl, whisk 1/2 cup sugar with the cinnamon and allspice.
Sprinkle mixture evenly over bottom of pan, arrange cranberries in a single layer on top.
Cream remaining 6 tbsp of butter and 1/2 cup of sugar until light and fluffy.
Add egg and vanilla, beat until well mixed.
In another bowl, whisk together flour, baking powder and salt. With mixer on low speed, add flour mixture to butter mixture, alternating with the milk.
Spoon batter over cranberries in pan and smooth the top.
Place pan on baking sheet and cook until toothpick comes out clean, about 30 to 35 minutes.
Cool on wire rack for 20 minutes. Run a knife around edge and invert onto a rimmed platter.
Enjoy!