teresas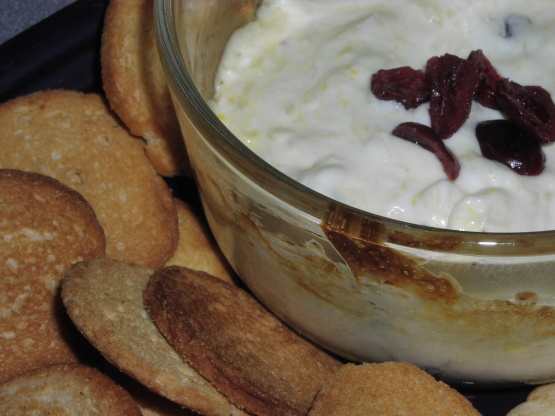 Here's an easy-to-make dip that's from The Joy of Cranberries: The Tangy Red Treat cookbook, which I got from my Cookbook Swap partner not long ago! It go well with slices of apple or pear, as well as on crackers & squares of bread!

Very yummy! I used plain cream cheese and added some crushed pineapple to it. I also cut the recipe down to serve 2 1/2 people. Worked great, I might have added a touch to much orange zest but I loved the flavor. The overall dish is nice and creamy with a hint of sweetness. Easy and quick to prepare and great for a snack. This will be made next time I have company coming. Thanks for posting.
Preheat oven to 375 degrees F.
In a bowl, mix all ingredients until well blended.
Spread in 9" pie plate, & bake until thoroughly heated, about 15 minutes.
Serve warm or room temperature.