Annacia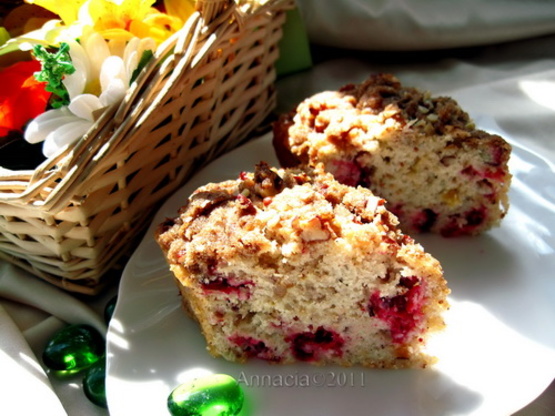 This recipe was found in the 2008 cookbook, Taste of Home Baking Classics, & if you enjoy, as I do, both these tart red berries AND raisins, well . . . !

Mmmm Mmmmmmm Good. I added a few finely chopped pecans into the cake as well as in the topping, used Splenda for both sugars. I made a half recipe and got 3 lovely mini loaves from that. Each mini loaf is just right for DH and myself to split. Everything comes together beautifully for a delicious, fluffy and very satisfying treat.
Preheat oven to 350 degrees F & grease a 9"x5" loaf pan.
FOR THE STREUSEL ~ In a bowl, combine sugar & flour, then cut in the butter until crumbly. Stir in the pecans & set aside.
FOR THE BREAD ~ In a large bowl, whisk together the flour, sugar, baking powder, nutmeg, allspice & salt.
In another bowl, whisk together the egg, orange jice, butter & zest, then stir this mixture into the flour mixture just until moistened. Fold in the cranberries & raisins.
Put half of the batter into the prepared loaf pan, then sprinkle that with half of the streusel. Repeat layering.
Bake 65-70 minutes or until a toothpick inserted near the center comes out clean.
Cool in the pan on a wire rack for 10 minutes before removing the bread from the pan & putting it upright on the wire rack.