Cranberry Sticky Toffee Pudding
Satyne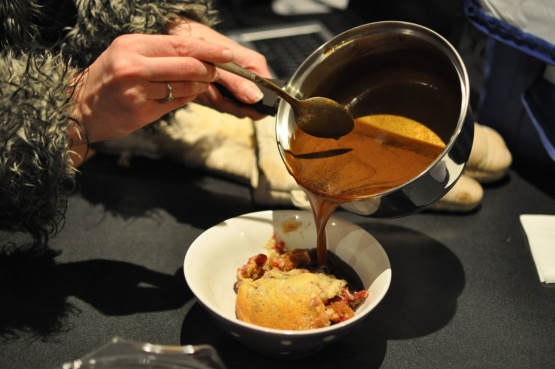 This is from our local foodie magazine, City Palate... Made it for Xmas and it was amazing. Any recipes I've ever tried out of this magazine have been incredible (the contributors are mostly big chefs around town)

Top Review by Satyne
Made for Zaar World Tour 8. I really enjoyed this dessert, particularly the pudding. I was unable to find any frozen or fresh cranberries so settled for 75% frozen raspberries / 25% dried cranberries and it was lovely. I would personally recommend halving the sauce as it is soooooo sweet and rich, but this could be a personal preferance. Thank you so much for sharing.
Preheat oven to 350°F.
In a medium bowl, beat butter & sugar for a minute, until the mixture is light and fluffy, then add the eggs and extract and beat the batter well.
In a small bowl, stir together the flour, baking powder, and salt.
Add half the flour mix to the butter mixture and stir by hand until blended, then stir in the orange juice and the remaining flour mix. Fold in the cranberries.
Spread the batter into an 8x8 pan that has been sprayed with nonstick cooking spray and bake for 35 to 40 minutes, until the pudding is golden and the top is springy to the touch.
TOFFEE SAUCE.
Combine the butter, sugar and cream in a small saucepan and bring it to a simmer over med heat, cook, stirring often for about 10 minutes or until the mixture is thick.
Serve the pudding warm with the sauce!