Cranberry Sour Cream Muffins
Dorel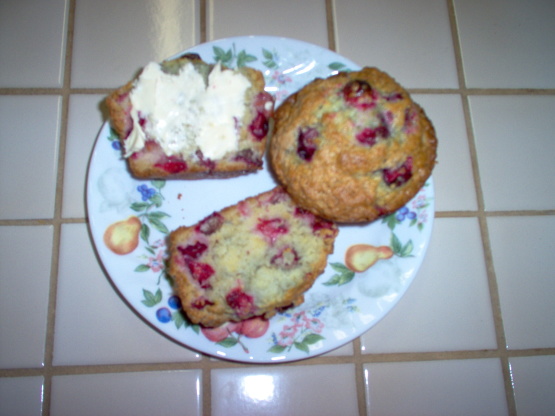 This is my adopted recipe from Feb 2005. I have changed a few ingredients from when CoffeeMom and karenann000 reviewed it. I made mine in 6- 3 1/2 inch muffin cups. I find the sour cream and cranberries go so well together.Absolutely delicious. I don't find it needs any addition flavoring.

Good and simple. I used dried cherries, reconstituted and also used SOURED cream (had some heavy whipping cream that had gone bad and used it for this). SPECTACULAR muffins. Would probably add some nuts maybe cinnamon next time, but are very good.
Sift together flour, 1/4 cup sugar, baking soda and salt into bowl.
Combine egg, sour cream, milk and oil in small bowl; blend well.
Add all at once to dry ingredients, stirring just enough to moisten.
Combine cranberries and 1/2 cup sugar; stir into batter.
Spoon batter into greased 3 1/2-inch muffin-pan cups, filling equally, or use 12 cup 2 1/2 inch muffin pan.
Bake in 375°F oven 20 minutes for 12 muffins and 30 minutes for 6 muffins or until golden brown.
Good hot or cold with butter, easy to reheat in micro.