Cranberry Sour Cream Coffee Cake
MA HIKER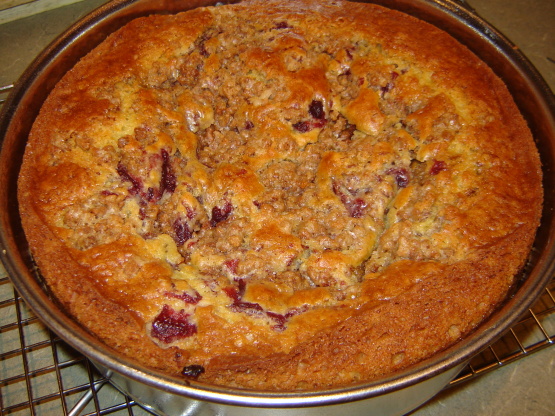 Light recipe from R. Reisman. Great coffee cake - not too sweet - just perfect for brunch or a light snack!!

This is a very nice coffee cake! I wasn't sure what I was going to do with the leftover cranberry sauce, so I doubled the recipe and used the whole can. I didn't use the food processor to puree the sauce, just sort of swished around a butter knife in the can to mix up the sauce and glopped it onto the batter. Turned out just fine. Also, even though the recipe said this wasn't too sweet it seemed like a lot of sugar - so I just used one-and-half cups of sugar when I doubled it and it was plenty sweet. And one little problem - doesn't say how much brown sugar to use in the topping, I used equal amounts brown sugar & flour and it was fine. A nice flavorful coffee cake!
Preheat the oven to 350°F Spray a 9-inch springform pan with vegetable spray.
Make cake: in a large bowl and using a whisk or electric mixer, beat orange rind and juice, sour cream, oil, egg, egg whites, vanilla and sugar.
In another bowl, stir together flour, baking powder and baking soda; with a wooden spoon, stir the flour mixture into the orange mixture just until it is combined. Pour the mixture into a prepared pan.
In a food processor, purée the cranberry sauce. Dollop it over the batter and use a butter knife to swirl it around gently.
Make topping: in a small bowl, stir together the cereal, brown sugar, flour, water and oil just until crumbly. Scatter the toppng over the cake batter.
Place the pan in the centre of the oven and bake for 55 to 60 minutes or until a tester inserted in the centre of the cake comes out clean. Let the cake cool on a wire rack.