Cranberry Sauce With Lime & Ginger

A slightly tangy variation on a traditional cranberry sauce. Great with turkey or ham! From Better Homes & Gardens.
Directions
Stir together water, sugar, syrup, lime peel and lime juice in heavy saucepan. Bring to boiling and reduce heat. Simmer, uncovered, for 3 minutes or until sugar has dissolved.
Add cranberries and continue to simmer for 5 minutes, stirring occasionally. Stir in ginger. Simmer for another 6 minutes or until berries have popped and mixture starts to thicken.
Remove from heat and let cool. Can chill for up to 3 days. Bring to room temp for 30 minutes before serving.
Most Helpful
This is the first time I made this and it is a keeper. It is easy to make and I like the ability to make ahead.
This has been a tradition on my Thanksgving table for at least 5 years. I was so glad to find it here, as my copy from the magazine is torn and frayed. Thanks for posting this!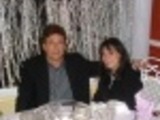 I typically skip past the cranberry sauce on Thanksgiving, but this recipe was FANTASTIC!! Everyone loved it! It will be a new tradition in our home...thank you!