Prep 15 mins
Cook 22 mins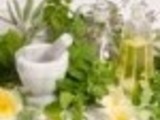 Here is a great way to use up that cranberry sauce after your turkey dinner.
Directions
Heat oven to 400°F Spray your muffin tins.
Mix together topping ingredients and set aside.
In a large bowl, combine flours, oats, brown sugar, baking powder, cinnamon, baking soda and salt; mix well.
In medium bowl, combine milk, applesauce, cranberry sauce and egg; blend well.
Fold into dry ingredients all at once; stir until dry ingredients are moistened.
Fill muffin cups about three-quarters full.
Sprinkle with topping.
Bake 20 to 22 minutes or until golden brown.
Reviews
Most Helpful
I found a can of cranberry sauce in my pantry and was stumped with what to do with it. Luckily I found this recipe! They were easy to make and yummy! Full disclosure I did use oil instead of applesauce since that was what I had on hand. This recipe is almost the same as one I use. Based on the odd texture of other muffins that use applesauce instead of fat, I think my recipe is better. Fat in baking is healthy if it's the right kind. My recipe changes: 1/3 cup oil or melted butter instead of applesauce, buttermilk instead of skim, and no topping. I add the cranberry sauce to everything at the end and I don't mix the sauce in thoroughly because I like eating saucey and whole cranberry bits. I'm not rating 5-stars because of the applesauce and the recipe as published is too high in sugar.
These muffins are AMAZING! 5 of 5 stars in IMHO. I used Apple-Orange Cranberry Relish from Wm Sonoma, and it is worth the extra cost. So moist and delicious, and with whole wheat flour and rolled oats, very little sugar and no oil, this is a good healthy muffin. Will make many times in the future. Be sure to spray the muffin paper cups, if using, with an oil spray, as they do stick to the paper a bit.