Cranberry Sauce (Bread Machine)
Annacia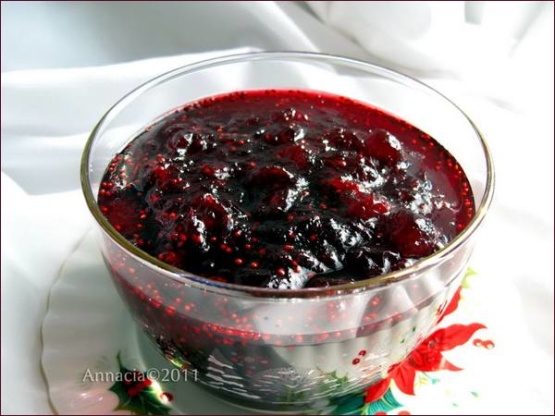 Posted in response to request for bread machine jam cycle recipes. From Cuisinart. I have not tried this.

Hummmmm, this was the first time that I even tried using the bread maker for cranberry sauce or the jam cycle at all for that matter. I don't know if every bread maker would give the same result or if my Zo just really let me down on this. The sauce it's self ended up lovely and tart and I have no problem recommending that part at all. The problem was the bread maker, it didn't get hot enough to make all (or even most) of the berries pop and it was like the berries were just sitting on red water. Not wanting to sit through another 1:20 cycle I just put it all in a lidded pot and simmered the lot for 15 mins. At the end of that time when I took the lid off all of the berries had popped and there was thickening happening, yay. If I try this in the Zo again I'll chop the berries first. Oh! and I did add some extra sugar as the juice I use is organic and unsweetened. The color of this sauce is a deep and gorgeous deep red that could inspire your entire holiday theme. :D
Place all ingredients in a medium bowl. Stir to combine. Transfer to the bread pan fitted with the kneading paddle. Select Jam cycle. Press start.
Scrape the sides of the pan at 5 and 10 minutes into the cycle.
Transfer cranberry sauce to clean jars. Let cool, then cover and refrigerate. Keeps refrigerated 4 to 6 weeks.