Hey Jude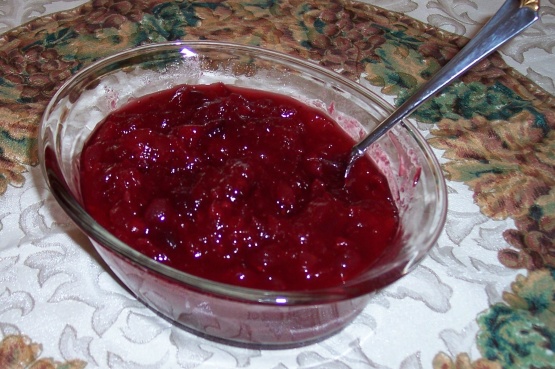 A simple cranberry relish OR gelled sauce.

I just made this and it is still cooling. It is so good! The only changes I made were, I only used orange juice...no water, and I cooked it in the microwave. Just cook for about 2 or 3 minutes and stir, continue cooking 2 or 3 minutes and stirring until done. That is how I have always made cranberry sauce, and it works great.
Thanks for posting, Rachel C.
Combine all ingredients in a medium sauce pan, bring to a boil while stirring occasionally.
Reduce heat and simmer for 10 minutes while continuing to stir occasionally.
Cool to room temp in a bowl or strain through a fine mesh strainer, pressing all of the juice out of the berries and into the bowl.
The very high amount of pectin contained in the fruit will jell this nicely, but it's important to get all the juice out of the berries if you go that route.