karen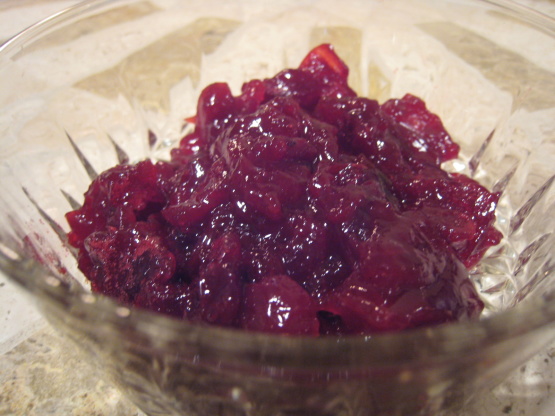 Sweet and spicy - a holiday favorite!

Right up front you need to understand that I'm a tru cranberry fan, & during the winter months have some kind of cranberry sauce around most of the time! I did, however, cut all the ingredients here in half, but no matter ~ THIS IS A GREAT SAUCE, no doubt on my part! Very tasty, very easy to make! I use it as is or on pound cake or on ice cream or with pork or chicken of in a wrap with cheese ~ You name it & I'll probably enjoy it! Thanks for sharing! [Tagged, made & reviewed for one of my adoptees in the current Pick-A-Chef]
Boil the cranberries in the water for 8 minutes; drain.
Add sugar, orange juice, cloves, and cinnamon.
Boil 8 more minutes.
Pour into a mold or bowl and chill until set.
Time to prepare does not include chilling time.