Cranberry Sage Stuffing on the Side
Ambervim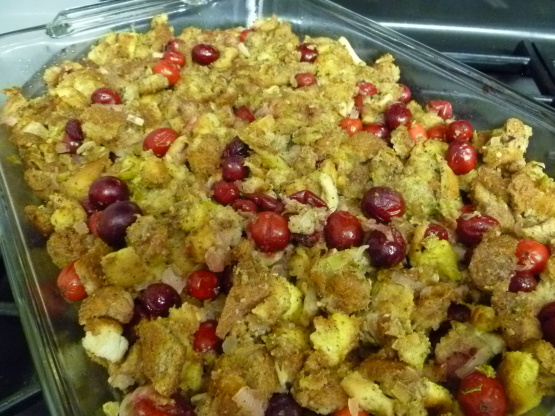 This is a lovely side dish that goes well with poultry, pork or almost any thing. It is sometimes nice to have two different stuffings for different tastes If you are going to double this recipe do not double the sage or it will overpower just add a little bit more than the original recipe

Delicious Bergy! Prepared it on Christmas Eve and enjoyed it with our turkey on Christmas day. I used craisins, dried sage and brown sugar. Looked great on our buffet table too, thanks Bergy for another winner.
In a large skillet melt the butter, do not brown, and add the onions- saute for 3 minutes then add the celery, stir.
Continue adding one ingredient at a time until all the ingredients are in the pan Stir lightly after each addition.
Turn into an oiled oven proof dish.
You may now refrigerate it covered until the next day or.
Bake in 350F oven for 30 minutes it should be nicely browned and cooked through.