Rita1652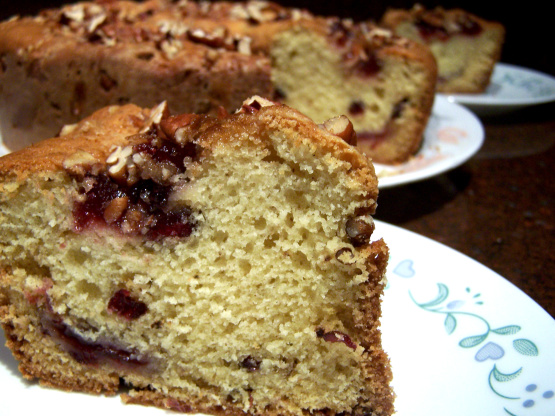 A recipe a friend had given me and I tweaked. Hope you enjoy it!

I wanted to bake a cake to bring to Guadalupe House. I had a can of cranberries and wondered if there was such a thing as a cranberry cake and found this! I brought it tonight 2/1/11 and folks loved it. I had enough cranberries and sour cream left to make another 1/2 recipe - I made it in a small rectangular pan - will bring it to work tomorrow.
Prep a 10 inch tube pan with butter and dust with flour, set aside.
Stir together flour, baking powder, baking soda and salt.
Beat butter 30 seconds.
Add sugar and extract and beat until fluffy.
Add eggs, beat well.
Add flour mixture and sour cream alternating to creamed mixture until smooth.
Mix in dried cranberries Spread half of batter into a greased and floured 10 inch tube pan.
Spoon 1/2 C cranberry sauce over batter.
Spoon remaining batter over sauce.
Top with remaining cranberry sauce.
Sprinkle pecans and sugar mixture on top.
Bake at 350° for 40-50 minutes.
Cool 10 minutes and remove from pan and place on wire rack.