GaylaJ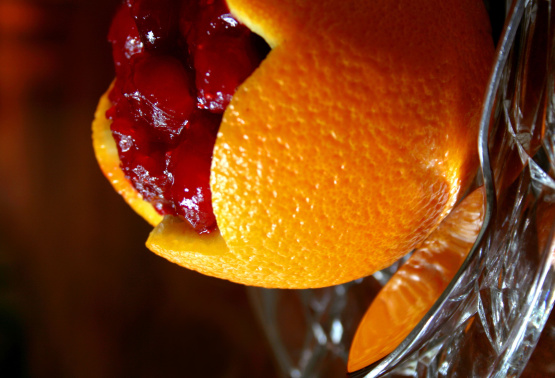 Lovely with poultry of any kind, also nice with pork. (I think this originally came from Reader's Digest).

My food processor broke just as I was getting ready to make the cranberry relish today. In desperation I went to the Internet to find a recipe that did not require processing, and I found this delicious little relish that I will make from here on out even if I have a processor. The ginger and cloves adds a very nice touch.
Cut oranges in half, remove pulp.
In a large saucepan, stir together the brown sugar, orange juice, water, crystallized ginger, ground ginger and cloves.
Bring to boil over high heat, stirring until sugar is dissolved.
Lower heat to moderately high and cook for about 3 minutes, stirring.
Add cranberries, return to boil over high heat.
Lower heat to moderately high and cook for 2 or 3 minutes or until skins pop, stirring.
Transfer to a covered container and refrigerate for at least 1 hour before serving.
Store in fridge up to one week.
If you like to get fancy- make orange shells out of the orange skins and serve the relish in the orange cups.