chia2160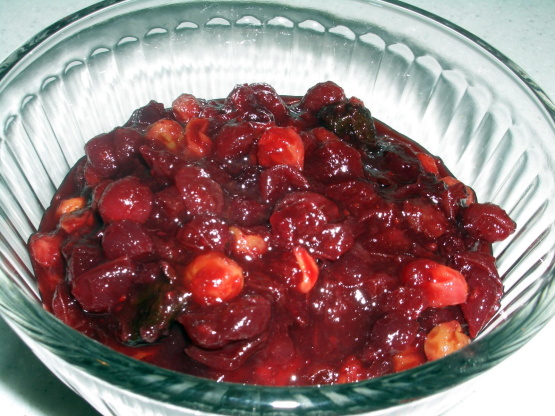 I love port after dinner, and I love to cook dried fruit with it. This recipe is perfect with the dried berries and the combo of dried and fresh is delicious. in this photo i used dried cherries and golden raisins instead of the dried cranberries, very colorful and tasty.

I have been using this recipe every Thanksgiving since it first appeared in Bon Appetite a few years ago. I love it and normally I hate cranberry sauce. It's a definite crowd pleaser! *sorry got the magazine wrong!*
Bring port and cinnamon stick to boil in a saucepan.
Reduce heat to medium, add dried cranberries and cook 3-5 minutes.
Add fresh berries, water, sugar.
Bring back to boil until sugar dissolves, then lower to simmer, cover and cook 15-20 minutes, stirring frequently.
Discard cinnamon stick and serve at room temperature.