Derf2440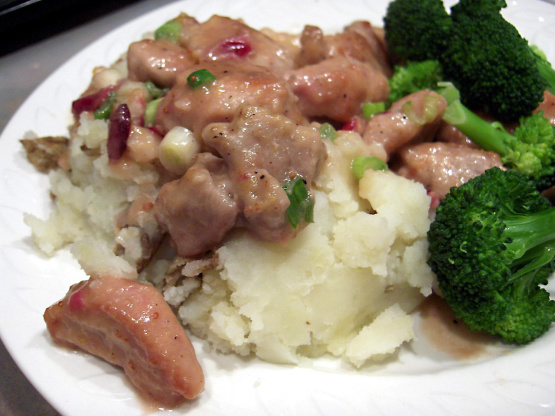 I recommend making the effort to use cider and stock, rather than juice and broth - it really adds considerable flavor. This is another recipe with a very "fall" feeling - nice and rich, but most of the flavor comes from fruit rather than fat.

A creative recipe for pork chops! I had to make just 2 adjustments. I didn't have any scallions and had no substitutions. I didn't have a fresh orange for the peel but I did have some fresh orange juice. So I used about 1/4 cup of the OJ along with 1/4 cup of chicken broth. End result was very tasty and a good use for the fresh cranberries I had.
Dredge pork chops in flour and pepper.
Brown in 1/2 of the oil, and remove from heat.
Add the remaining oil and 1 tbs of the leftover dredging flour.
Stir in the cider, stock, sugar, orange zest, and cranberries.
Bring the mixture to a boil, add chops, and reduce to a simmer.
Cover and simmer 5 minutes per side or until chops are done.
Add the scallions and serve.