charbon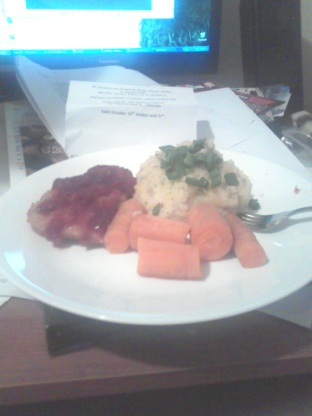 Soon cranberries will be showing up in the grocery stores and this recipe is one that I make quite often during the winter months. I even buy and freeze cranberries so that I can make this whenever I'm hungry for it!! I've served it for Christmas parties, etc. and it's always well received. When I make this in a large amount for a party, I line my chops up domino style and try to spoon the sauce down the center of the row, it looks so pretty that way!
Season the chops with salt and pepper and lightly dregde in the flour. In a medium hot skillet fry the chops in the oil until lightly browned. Place in a casserole dish.
In a saucepan, combine the berries, sugar and water and cook over medium heat until the berries 'pop' and the sauce is slightly thickened.
Pour over the pork chops. cover and bake at 350* for one hour or until the chops are tender.