Cranberry Pecan Salad With Feta Cheese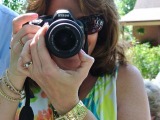 After having something similar in a restaurant, I just had to start making these at home. Now I'm addicted! When they are in season, I substitute fresh blueberries and/or strawberries for the dried cranberries. Also delicious!
Directions
Place salad greens in a bowl.
Top with cheese, cranberries and pecans.
Use as much dressing as you prefer, but I like to go light on the dressing.