Pam-I-Am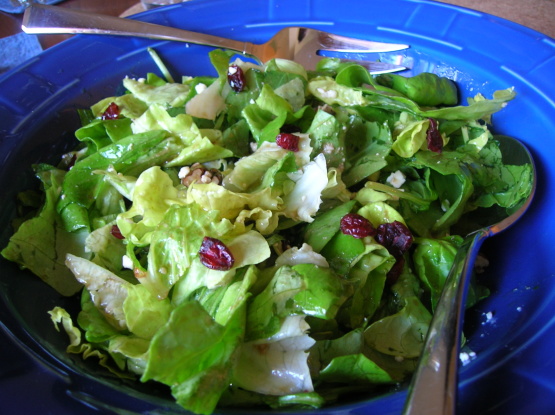 A sweet but zesty salad with a unique twist of carmelized pecans. Try serving for brunch along with "Baked French Toast" and "Bacon and Onion Quiche"

Lovely salad! The brown sugar on the pecans was great - I didn't even use the butter and carmelized with just a few tablespoons of the brown sugar. Thanks for posting!
1

(7 ounce) bag mixed greens

1

(6 ounce) bag dried cranberries

4

ounces of montrachet goat cheese, crumbled

1

(4 ounce) bag pecans
1⁄8 cup balsamic vinegar
1⁄4 cup olive oil

1

tablespoon jam or 1 tablespoon jelly (any flavor)
1⁄2 teaspoon dried ginger
1⁄8 cup orange juice

2

tablespoons butter
Start by carmelizing pecans.
Melt butter in pan.
Add brown sugar and stir unti mixture bubbles and doesn't appear to greasy or too dry.
Add pecans, stir and cook until well coated.
Place on cookie sheet to dry and cool.
Prepare the salad dressing.
Mix balsamic vinegar and olive oil.
Add jam, orange juice and ginger.
Put greens, cranberries, cheese and carmelized pecans in a salad bowl.
Toss with salad dressing and serve immediately.
Try serving for brunch along with"Baked French Toast" and"Bacon and Onion Quiche".