Cranberry Pear Tart With Gingerbread Crust
Glimmer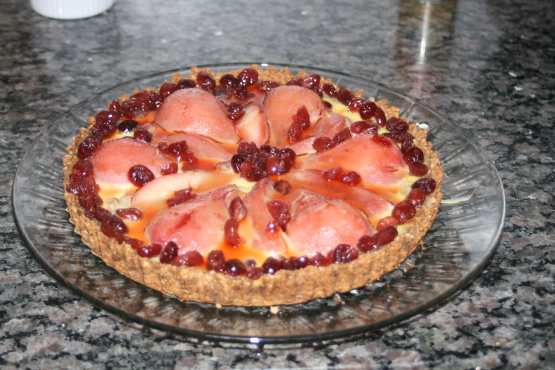 This tart is work. But sometimes you need to work a little harder to reap in the benefits - and you'll love this recipe. Fortunately, most of the work can be done way ahead of time. Drop-dead-gorgeous. Drop-dead-delicious. Also, that 'something special' you're looking for for your next Thanksgiving/Holiday meal.

Terrific recipe! I made this for my "son-in-law" for his birthday. His request was for a fruit tart and after an extensive search I chose this recipe because it seemed so different. It does take time (more than stated but I tend to work slowly) and is quite a few steps but the recipe is written well and is easy to follow. The only problem I had was for some reason the custard leaked out of the tart pan through the ring...I've never used it before so maybe it's faulty somehow. All it really meant was the pears showed more and I was fine with that. A couple of hints about the pears...make sure you plan ahead of time and your pears are definitely ripe, it makes all the difference in flavor. You also want to be careful what kind of pear you choose because the sizes differ so much. The only ripe ones I could find were smaller so it did change the look but not the taste. So everyone loved this (especially the crust) and I will definitely make it again when I am looking for an elegant dessert that tastes wonderful. Thanks!
Make pear mixture: In a saucepan, combine cranberry juice, sugar, cinnamon stick and lemon juice.
Bring to boil and add pears.
Heat until it just comes to simmer and simmer gently for 10-15 minutes, or until the pears are just tender.
Remove from heat, stir in cranberries and let mixture cool.
Chill, covered, for at least 8 hours.
(may be made 2 days in advance) Crust: Blend together flour, brown sugar, cinnamon, ginger, allspice and salt.
Cut in butter until mixture resembles coarse meal.
In a small bowl, stir together egg yolk and the molasses.
Add to flour mixture and mix until combined well but still crumbly.
Turn out onto 10 inch tart pan with removable rim and press onto bottom and up sides of pan.
Chill crust for 30 minutes.
Preheat oven to 375°F.
Prick crust all over with fork, line with foil, fill with pie weights or dry beans, and bake in lower third of oven for 15 minutes.
Remove foil and pie weights and bake crust a further 10 minutes.
Let cool.
Transfer poached pears and half the cranberries with a slotted spoon to paper towels to drain, discard cinnamon, and reserve syrup with remaining cranberries.
In a small bowl, whisk together eggs, sugar, sour cream, milk, vanilla, zest and a pinch of salt.
Stir in the drained cranberries.
Preheat oven to 325°F.
Spoon half of custard into the crust.
Slice 4 of the pear halves crosswise on the diagonal, arrange decoratively over the custard alternately with the unsliced pear halves, and spoon remaining custard around pears.
Bake tart in middle of oven for 50-55 minutes or until custard is just set.
Remove rim of pan and let cool.
(may be made up to 8 hours in advance, cooled completely and chilled) Boil reserved syrup until reduced to 1 cup and is jelly-like in consistency and transfer cranberries with slotted spoon to a plate to cool.
Brush pears with some of cranberry glaze and arrange cranberries around edge of tart.
Serve warm or chilled.