Annacia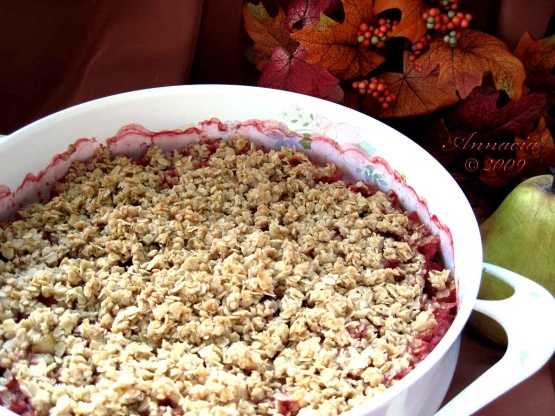 This yummy fall recipe comes from the food section of the Oregonian newspaper. It is written for fresh or frozen cranberries, not dried. I have increased the amount of orange juice to 1/2 cup based on a review - I made the dish with the new, increased amount, and it was perfect. Because it's somewhat tart, I prefer serving with vanilla ice cream, but sweetened whipped cream is good, too.

This is a delicious crisp. I stirred one tablespoon of corn starch into the orange juice just to make sure the filling would thicken (probably not necessary, but it worked). I will be making this next cranberry season!
Preheat oven to 350.
Lightly grease a 1 1/2 quart casserole dish.
Combine fresh or frozen cranberries, pears, sugar, orange juice, cinnamon, and allspice or mace; mix well. Spoon into prepared dish.
In a medium bowl, combine brown sugar, flour, and orange peel; cut in butter until crumbly. Stir in oatmeal and nuts. Sprinkle mixture over fruit.
Bake 50 minutes, or until golden brown.
Let sit for a few minutes until the bubbling stops. Serve with vanilla ice cream or whipped cream!