Annacia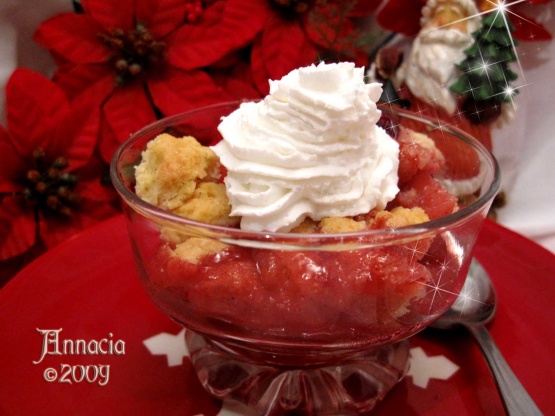 This recipe is low sodium and came from Nubella

The final out come was delicious but there was no way I was going to get all 4 pears into the pan. I switched to a *deep* corning wear dish and the 2 pears I had sliced. The second issue was with the topping. 1 lg egg couldn't incorporate all of the flour and I ended up adding the butter into the flour to make a usable dough. With the 2 cups of cranberries and two pears I got 4 servings of a great tasting Christmas season dessert that was really enjoyed still warm (it cooled as we had dinner). I should also mention that I used 1/2 a cup of sugar and 3/4 cup of Splenda to help control the sugar a bit. We loved it.
Preheat oven to 350°F Combine pears, cranberries and tapioca in a deep 9 inche baking dish. Let sit 5 minutes.
Combine salt, cinnamon, nutmeg and sugar in a bowl and sprinkle evenly over pears and cranberries.
Combine flour and baking powder in a bowl. Cut egg into flour mixture. Sprinkle evenly over fruit mixture and drizzle with butter.
Bake 40-45 minutes or until topping is golden.