Debbwl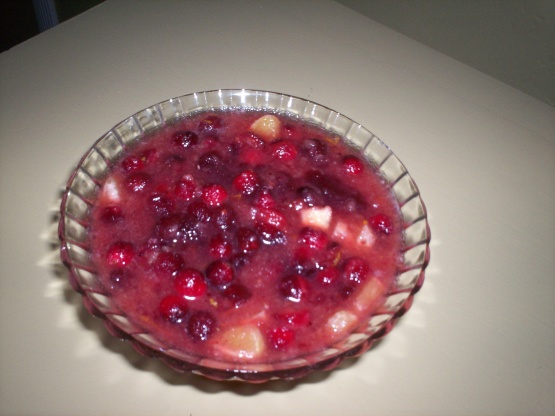 Having tried a number of cranberry sauce recipes over the years, I find this one to be easy and very tasty. As with many such sauces, it goes well with poultry, pork, meatloaf, pound cake, ice cream, cottage cheese & more! Pleast note that I much prefer to use chunky applesauce as the final ingredient.

Top Review by Debbwl
What a yummy treat. The absolute best cranberry sauce. A thin sauce with lovely chunks of cranberries, orange, and apple. This is a very sweet sauce with no tart after taste. We had it over chicken and DH thought it would be good on ice cream. Thanks so much for the post.
In a medium sauce pan dissolve sugar in water, then bring to boil.
Pick over the cranberries, keeping only quality berries & add them to the boiling sugar water. Return to boil & reduce heat & boil berries gently for 10 minutes, then remove from heat.
Meanwhile, zest the orange. Chop zest into small bits. Then remove the white pith from the orange before coarsly dicing the orange.
When the cranberries have been removed from heat, add the chopped zest, diced orange, canned cranberry sauce and chunky applesauce & mix thoroughly.
Cool to room temperature, then cover & refrigerate.